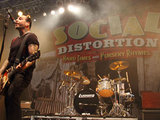 Social Distortion
and Anti-Flag are among the acts confirmed for the Lock Up Stage at this year's Reading and Leeds Festivals.
Other acts announced include Floridian ska punk group Less Than Jake, Bouncing Souls, Gallows, Me First and the Gimme Gimmes and Turbonegro.
Last year's lineup included Alkaline Trio, Bad Religion and Against Mel.
The full Lock Up Stage lineup is as follows:
Friday 24 (Reading) & Saturday 25 (Leeds)
Social Distortion
Anti-Flag
Every Time I Die
Bouncing Souls
Saves The Day
Touche Amore
A Wilhelm Scream
Ceremony
Random Hand
Star Fucking Hipsters
Dead To Me
Pettybone
Sunday 26 (Reading) & Friday 24 (Leeds)
Less Than Jake
Me First and the Gimme Gimmes
Gallows
Turbonegro
Trash Talk
Good Riddance
The Skints
Polar Bear Club
This Is Hell
The Flatliners
Apologies, I Have None
The Cure, Foo Fighters and Kasabian
will headline the festivals
.
Reading Festival takes place from August 24 to August 26 at Richfield Avenue, while Leeds Festival takes place over the same dates at Bramham Park.
> The Cure Robert Smith: 'Reading, Leeds will see us coming full circle'
Weekend ticket holders to this year's festivals
have been promised free beer and burgers
.
Watch the video for Social Distortion's 'Ball and Chain' below: