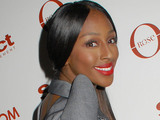 Alexandra Burke
has revealed that she regularly takes her fans out for dinner.
The singer admitted that she meets up with fans against her management's advice to find out what they think of her new material.
In a blog post titled 'The Importance of Fandom' on
Huffington Post
, she said: "I am probably a bit naughty but I do sometimes take them (the fans) out for dinner without telling my management and we have something fun planned for the summer where we can all get together and I love doing things like these with them.
"Taking a couple of hours out to chat to my fans over dinner like this means I will probably find out more about what is working/what isn't than my team will find out through hours of probably quite expensive and detailed research."
She continued: "Last week I took two of my fans out for dinner. It's instances like these that really make me stop and think no matter how good the music is you put out, how many albums you have done, or all of that - that no artist would be where they were without their fans."
Earlier today Burke debuted the
music video for her new single
'Let It Go'.
Her second studio album,
Heartbreak On Hold
, is out on June 4.
Watch the 'Let It Go' music video below: