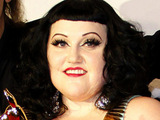 Beth Ditto has revealed that she suffered with depression after her father's death.
The
Gossip
singer, whose dad Homer Ditto passed away last year after suffering from rheumatoid arthritis, confessed that it took her "a really long time" to realise she was unwell.
She told
Attitude
magazine: "My dad died, you know? I was so depressed. I honestly didn't care about anything. And it took me a really long time to realise I was depressed.
"I had no idea. I only knew that I was really grumpy and there were days where I would just sleep for 24 hours solid and not even think about it. For some reason it didn't dawn on me that it was my dad."
The star also admitted that her father's passing affected the band's work with Mark Ronson, which was eventually scrapped.
Ditto explained: "It just didn't work out. It was kinda bad timing. It wasn't a brawl. I will say that I really liked working with Mark a lot. But there was so much going on."
Gossip release
their new album A Joyful Noise
on May 14. Watch the music video for their latest single 'Perfect World' below: