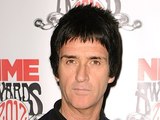 Johnny Marr
made a surprise appearance with The Cribs on Saturday night (May 12).
The former Smiths guitarist reunited with his former bandmates onstage for a performance at Manchester's Academy.
Marr had
quit The Cribs after four years together in 2011
, but decided to reunite with the group for a one-off gig.
Drummer Ross Jarman told
NME
: "We were in Manchester and Johnny was coming down to the show anyway so we thought we'd do a couple of songs together, just for old time's sake."
The group played 'We Share The Same Skies' and 'We Were Aborted' from 2009's
Ignore the Ignorant
, which featured Marr.
Earlier on Saturday, Marr had tweeted about the gig, saying: "Love and best to all The Cribs fans in my hometown tonight. Manchester Loves The Fellas. Johnny."
The Cribs entered at number nine in this week's UK album chart with latest LP
In the Belly of the Brazen Bull
.
Johnny Marr recently
denied speculation that The Smiths are to reunite
.
Watch the video for 'Come On, Be a No-One' by The Cribs below: