0
Music News
Flo Rida's 'Whistle' continues Aussie singles chart reign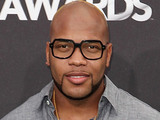 Flo Rida
has continued his lead on the ARIA singles chart with 'Whistle'.
The track spends a second week at the summit, while Carly Rae Jepsen's 'Call Me Maybe' and Maroon 5's 'Payphone' complete the top three, at spots two and three respectively.
Meanwhile, Rihanna leaps from 13 to six with 'Where Have You Been', and Lakyn Heperi vaults 18 to 10 with 'Big Jet Plane'.
T-Pain and Ne-Yo jump 17 to 14 with 'Turn All The Lights On', Usher lifts 26 to 18 with 'Scream' and Justin Bieber's 'Boyfriend' rebounds 33 to 20.
360 bound from 40 to 28 with 'Child', Adele debuts at 34 with 'Turning Tables', and Conor Maynard enters at 38 with 'Can't Say No'.
Outside the top 40, Jennifer Lopez and Pitbull land at 44 with 'Dance Again', and David Guetta, Chris Brown and Lil Wayne start at 47 with 'I Can Only Imagine'.
The Top 10 singles in full (click where possible for our reviews):
1.
(1) Flo Rida: 'Whistle'
2.
(2)
Carly Rae Jepsen: 'Call Me Maybe'
3.
(3) Maroon 5 ft. Wiz Khalifa: 'Payphone'
4.
(4) Ed Sheeran: 'Lego House'
5.
(6)
Nicki Minaj: 'Starships'
6.
(13)
Rihanna: 'Where Have You Been'
7.
(7)
Florence + the Machine: 'Never Let Me Go'
8.
(5) Delta Goodrem: 'Sitting On Top Of The World'
9.
(9)
B.o.B: 'So Good'
10.
(18) Lakyn Heperi: 'Big Jet Plane'
Listen to Flo Rida's 'Whistle' below: