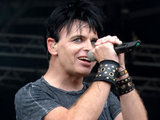 Gary Numan
has described relying on past successes as "self-defeating".
The electronic pioneer - who has often turned down requests to appear at 'nostalgia' concerts - said that he prefers to be "excited" about working on new music rather than just playing his former hits.
"I don't like doing too much old stuff. The thing I'm excited about is the new stuff, going into the studio to write something new is the thrill of it," he told BBC Breakfast.
"To have success early on and spend the next 30 years seems self-defeating, but there is a debt to play old stuff."
Numan will embark next week on his 'Machine Music' tour, which will celebrate his 33 years of making music, with a collection of rarely-performed tracks included on the bill.
"The new tour we're doing has a lot of old stuff in it. It's not something we do very often, and will not be something I'll do much again. If you do it too much it becomes too nostalgic."
During the tour, Numan will perform at his 600th gig in Bournemouth on May 28.
He added: "I thought it was more than that, I thought it was 6,000!"
The tour will be supported by a
Machine Music
DVD featuring music videos, live performances and TV appearances. It will be released on June 11.
The 'Machine Music' tour will kick off at Leicester's Academy on Tuesday, May 22.
Gary Numan released his
latest album Dead Son Rising
last year.
He recently
lent his support to a campaign about the dangers of tinnitus
alongside Chris Martin and Plan B.