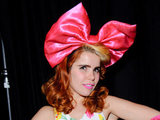 Paloma Faith
has revealed that she would take on an acting career as a "plan B".
The singer-songwriter has made appearances in the films
The Imaginarium of Doctor Parnassus
and
St. Trinians
in the past, and said that she would take it more seriously if her music career subsided.
"I'd moonlight as an actress, in Christina Ricci's roles if I wasn't a musician," she told
Bang Showbiz
. "I'd like to be an actress. That would be my plan B.
"I'd want to be cast in the sort of roles that Christina Ricci gets - quirky, avant garde and a little bit disjointed.
''I really loved her in
Buffalo '66
and
Monster
. I'd probably have to look into theatre school first, though.''
She added: "When I was a child, I used to eat my dinner on the pavement outside our house in London.
''We didn't have a garden and there wasn't a lot of green space so my mum would put out a little table and tablecloth out on the pavement and pretend it was a restaurant. A little imagination goes a long way."
Faith
entered the singles Top 10 this weekend with 'Picking Up the Pieces'
. Her new album
Fall to Grace
is released tomorrow.
Watch Paloma Faith talk to
Digital Spy
about her new album below: