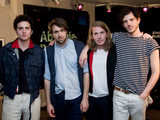 The Vaccines
have unveiled their brand new single 'No Hope'.
The track is the first to be lifted from their upcoming second studio album
The Vaccines Come of Age
.
The LP will be the follow-up to last year's debut record
What Did You Expect From the Vaccines?
, and will be released on September 3.
'No Hope' received its first play on Zane Lowe's show on BBC Radio 1 earlier this evening (May 28).
Frontman Justin Young said of the upbeat song: "We all felt it was a really good bridge between the first record and the second record."
Speaking about their new album, he added: "You can progress without getting too weird," before stating that they are "putting the finishing touches" to the LP.
The Vaccines also confirmed that they will perform at Radio 1's Hackney Weekend next month (June 23-24).
Last month, the band explained that the album
features several lyrics which are similar to those of Sir Paul McCartney
.
Listen to 'No Hope' below: