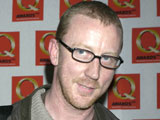 Dave Rowntree
has lamented the removal of graffiti on a London footpath inspired by Blur's 'For Tomorrow'.
Olympic officials wiped off the tribute which read, 'And the view's so nice', a line in the song referring to Primrose Hill in Regent's Park where the graffiti was written.
The 48-year-old drummer told the
Camden New Journal
: "It's a jobsworth attitude in an Olympic year where we're supposed to be celebrating British culture, and Blur did contribute to British culture. It's part of the Blur story.
"I can understand the decision, but I lived in the area for about 15 years and even I got used to it being there."
Rowntree added: "It's a shame, it was in one of our videos, we felt deeply about the lyric and about the hill."
The Britpop band are
playing what is likely to be their last ever performance in August at Hyde Park
to mark the end of the London Olympics.
Watch Blur's video for 1993 hit 'For Tomorrow' below: