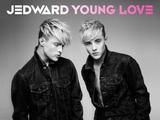 Jedward
have unveiled several new teaser clips for tracks from their new LP
Young Love
.
The duo are gearing up for the release of their third studio album,
which features previously previewed songs like 'Can't Forget You'
.
The teasers for songs 'POV', 'Luminous' and 'Happens in the Dark' play out over styled black and white clips of brothers John and Edward Grimes.
Lyrics to the uptempo 'Luminous' include: "I will always know where you are 'cause I can see you glow in the dark / We've got the stars and moon in us, we're always gonna be luminous."
The twins
recently represented Ireland in this year's Eurovision Song Contest
, where they entered their song 'Waterline'.
Young Love
is due for release in the UK on June 22.
Watch the teaser clips below:
'POV''Happens in the Dark'
'Luminous'