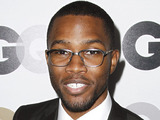 Frank Ocean
has named his upcoming album and confirmed a release date via a short video on his website.
The 24-year-old singer and producer uploaded a short clip featuring new track 'Pyramids' over mysterious footage of a car.
The video concludes with the words 'Channel Orange' and a date. Label Def Jam later confirmed to
Pitchfork
that
Channel Orange
is the name of the new album, and that it wil be released on July 17.
Ocean had previously been in a dispute with Def Jam over their reluctance to rerelease his debut album
Nostalgia, Ultra
, but has since claimed to have mended his relationship with them.
The singer
came second in the BBC Sound of 2012 poll last year
, and collaborated with
Jay-Z and Kanye West on their latest single 'No Church in the Wild'
.
The Odd Future member will play a number of festival dates over the summer, appearing at the V Festival in Staffordshire and Chelmsford on August 18 and 19, before playing Bestival at the Isle of Wight, which takes place from September 6 to September 9.
Watch the video for 'No Church in the Wild' below: