1
Music News
Maximo Park to play five in-store gigs on Saturday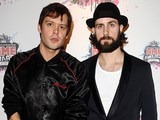 Maximo Park
plan to play five in-store gigs in one day to celebrate the release of their new album.
The band from Newcastle released their much-anticipated LP
The National Health
today (June 11) and plan to celebrate by performing in five different record shops in the North East this Saturday (June 16).
Speaking of their decision to mark the occasion with the gigs, vocalist Paul Smith said: "All of us are regular record buyers and we prefer to indulge this passion at the shops of independent retailers who have a genuine love of music and knowledgeable, friendly staff."
The band said that they understand their plans are ambitious and "quite possibly foolhardy", but added that they are excited about the special appearances.
The in-store performance times and venues are as follows:
11.30am Sound It Records, Stockton


1.45pm Hot Rats, Sunderland


3.30pm RPM, Newcastle


4.45pm Reflex, Newcastle


6pm Beatdown, Newcastle
Listen to a preview of Maximo Park's new album
The National Health
below:
> Maximo Park announce first UK tour for three years"
> Biffy Clyro debut new material during sunny Download set