Rita Ora
has revealed that she approached Professor Green for a future collaboration.
The singer asked the rapper if he was up for recording a new track while they were both at T4 On The Beach at the beginning of the month (July 1).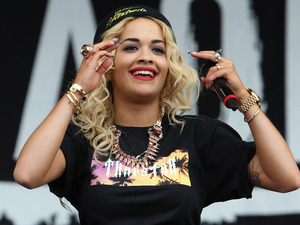 Asked if rumours of a collaboration between them were true, Ora told
MTV
: "Definitely, I'm a big Professor Green fan. I love the tone of his voice.
"I approached him at T4 On The Beach and he came up to me and said 'yes'. You never know when you are going to see them [artists] again and if you don't, you have to go through so many people.
"It's just fun to say, 'Look, I think you're amazing Professor Green - do you wanna do it?'"
Meanwhile, Ora maintained that she doesn't feel under pressure to score another hit following chart-toppers 'Hot Right Now' and 'R.I.P.'.
"I feel like it got such a great response and the fact that my fans love music, I just love music," she said.
"I always make music just to put it out and I never really expect it to do anything and that's why I'm gonna keep doing the same approach and see what happens."
Rita Ora will release her debut album
ORA
in the UK on August 27.
Watch the official music video for Rita Ora's new single 'How We Do (Party)' below: