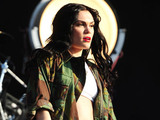 Jessie J
has pulled out of a gig in Wales after falling ill.
The singer was due to play Ponty's Big Weekend in Pontypridd tonight (July 20) but revealed on Twitter that a bug has left her "extremely fatigued".
She tweeted: "I want to personally apologise to all my fans who would be going to my show tonight (Pontys Big.W). I have been diagnosed with a viral infection recently that has caused me to be extremely fatigued.
"I was hoping to be better but I have been to see my doctor this morning after not feeling great who has advised me I am still in need of rest & to perform will make me worse."
She continued: "I hope you can all understand that I wish I could be there. But I'm just not well enough. Back to bed I go. So sorry."
The star was recently
added to this year's iTunes Festival
lineup, insisting: "This year is going to be epic."
Watch the music video for Jessie J's latest single 'LaserLight' below: