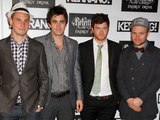 Enter Shikari
have announced a winter UK tour.
The band will play 11 gigs across the country throughout December.
The tour is the group's first UK headline dates since their short run in March, which included a sold-out gig at London's Hammersmith Apollo.
They will embark on the tour at Manchester's Ritz on December 6, followed by shows in Newcastle, Glasgow, Birmingham and London.
The jaunt will then conclude at Norwich's UEA on December 20.
Frontman Rou Reynolds said of the tour: "With the last set of UK shows being the biggest ones we'd done so far, there was expectation and pressure on us from some directions to move up into bigger rooms for this tour, as the 'media perception' of looking like you can play an arena (even with half of it curtained off) is apparently supposed to be of some worth.
"But when you factor in the basic facts of charging fans higher ticket prices so they can watch you from further away from the stage, and be charged £6 a pint into the bargain, it starts to feel like quite a cost just to be able to limply say "we played Wembley", so we made the choice of actually going smaller for this tour and doing double nights instead."
They will be supported by Canada's Cancer Bats and Brighton's Engine-Earz Experiment.
Enter Shikari will play their biggest festival gig so far at this weekend's Reading and Leeds Festivals.
Watch the video for Enter Shikari's 'Destabilise' below: