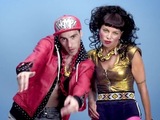 Sam and the Womp
have revealed that they hope to secure an album deal.
The pop trio - Sam Ritchie, 30, singer Lady Oo and DJ/bassist Aaron Audio - are currently
number one in the midweek singles chart with 'Bom Bom'
.
The group explained that they are yet to sign an album deal, and are hoping their single success will lead to more tracks being released.
"We've signed for two singles with Warner so we're still patiently waiting for them to take us on for the full album," Ritchie told the
Daily Star
.
> Sam and the Womp: 'Bom Bom' - single review
"We have recorded 13 tracks but we need these two singles to do well. We knew we had something special when we saw the energy and response we were getting from the audiences.
"Seeing the front rows singing along to the lyrics was fantastic."
Ritchie added that their music is "real", saying: "I've been a professional trumpet player for ten years.
"It's real music played without any click, with tuba, trombone, saxophone, keyboards and a fantastic live drummer."
Watch the music video for Sam and the Womp's 'Bom Bom' below: