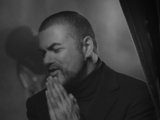 George Michael
has paid tribute to the medical staff who saved his life at a gig.
The singer, who resumed the European leg of his 'Symphonica' tour last night in Vienna (September 4), offered 1,000 tickets to doctors and nurses who treated his pneumonia last year.
"I'd like to take the opportunity to say that there are a number of people without whom none of us would be here tonight,"
Express
quotes him as saying.
"This is one of the greatest honours of my life, to sing to the men and women who saved my life.''
Michael then performed a cover of Nina Simone's 'Feeling Good' by request from one of the doctors who aided his recovery.
The star closed the show with a rendition of his new single 'White Light', commenting: "One last treat for you all before we go. I think given the manner of men and women who did save my life, we could not go without singing this song.
"Let's hear it for the people who saved my life."
Michael's jaunt hits the UK on September 16 with two shows at Birmingham's LG Arena before playing a further 13 dates.
Watch the 'White Light' music video below: