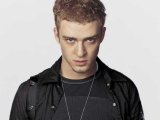 Justin Timberlake was the big winner at last night's MTV video awards, winning four gongs at the Las Vegas event.
The 'SexyBack' singer won the best male artist, best choreography in a video, best director and quadruple threat of the year awards.
Rihanna was the other big winner, being given the overall best video of the year and monster single of the year accolades for her single 'Umbrella'.
Black Eyed Peas star Fergie was named best female, while emo-rockers Fall Out Boy were awarded the best group title.
Here are the full list of winners:
Video of the year
Rihanna (featuring Jay-Z) -
'Umbrella'
Male artist of the year
Justin Timberlake
Female artist of the year
Fergie
Best new artist
Gym Class Heroes
Best group
Fall Out Boy
Most earth-shattering collaboration
Beyonce and Shakira -
'Beautiful Liar'
Quadruple threat of the year
Justin Timberlake
Monster single of the year
Rihanna (feat Jay-Z) -
'Umbrella'
Best director
Justin Timberlake - 'What Goes Around... Comes Around' (Samuel Bayer)
Best editing in a video
Gnarls Barkley - 'Smiley Faces' (Ken Mowe)
Best choreography in a Video
Justin Timberlake - 'My Love' (Marty Kudelka)