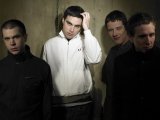 US hip-hop star Chuck D claims that he is ready to work with UK rockers Hard-Fi whenever they want.
The Public Enemy star heard that the
'Suburban Knights'
band wanted to record with him and has revealed that he is more than willing to collaborate with them on a track.
He told the
Daily Star
: "I know those guys, they're cool. I read the UK music press - they should give me a call."
However, Chuck D added that this wouldn't necessarily mean the Staines rockers would get to meet him face to face, explaining that he prefers to work over the internet.
He commented: "It's the way I like to work now. You don't have to spend nine hours on a plane."