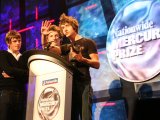 Reverend And The Makers singer John McClure claims that one of the Arctic Monkeys has a tattoo of one of his poems.
McClure told
BBC News
that a member of the
Favourite Worst Nightmare
rockers has the words 'Speak The Truth', the title of one of his works, drawn on his neck.
The 'Heavyweight Champion Of The World' singer didn't reveal which member of the Sheffield band obtained the body art.
The frontman commented: "My brother's got it on his arm and one of the Arctic Monkeys has got it on the back of his neck.
"It's more of a code of ethics, it's not preaching. The message is essentially peace and love, because I wonder what happened to that. It kind of got washed away in the '80s and was replaced by a load of rock stars.
"We're the people's band. The overriding message is peace and love in what is the most turbulent time in living history."