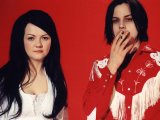 Jack White has claimed that he doesn't mind if The White Stripes never go on tour again.
The group
pulled all their 2007 tour dates
after Meg White was revealed to be suffering from acute anxiety.
However, frontman Jack has said he won't miss touring because he has other creative outlets.
He told the
Los Angeles Times
, "If it came to a point where Meg said, 'I don't want to be in this band anymore, it doesn't fulfill me in any way,' then it would be a different story. But she's not saying that."
Talking about their live hiatus, he said: "I don't know. I guess it's up to her [Meg]...She seems to be lively.
"She was really invigorating working together on this 'Conquest' record. I was wondering if she was interested, and she was completely - very, very involved."
The singer added that the Beatles, who stopped playing live shows at the end of their career, are an inspiration for them.
He said: "Well, the Beatles did it. I'm joking, but if we didn't ever tour again it doesn't matter to me.
"There are so many different aspects to being creative that it doesn't matter if one component is changed. Because it's been changing all the time since the band started.
"And if something isn't working for you and it's detrimental to you, then you have to figure out a new way to attack it, a new way to look at it. I think that's what Meg's doing."