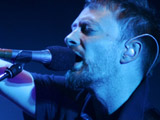 Radiohead were forced to relocate their instore gig after over a thousand fans turned up.
The Oxford rockers announced an
intimate show
at Rough Trade East on Brick Lane yesterday, with tickets sold on a first come, first served basis.
However, when roughly 1,500 fans arrived at the store the group were told by police and local authorities to switch venues and moved the concert to the 93 Feet East nightclub.
The concert saw the band play their
In Rainbows
LP in full, followed by an encore including their hits 'The Bends' and 'My Iron Lung'.
Speaking at the gig, frontman Thom Yorke said: "As you know, this was supposed to be in a shop. I'm glad it's not, actually. Fair play to Rough Trade for putting up with this."
Audience member Claire Roberts told
This Is London
: "It was the single greatest experience of my life.
"Even though we had to wait for three hours longer, the set was amazing. We were right at the front and could almost touch the band."
> Click here for our review of latest single 'Jigsaw Falling Into Place'