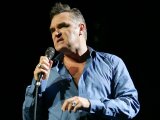 Russell Brand called an early end to a Morrissey gig at the Camden Roundhouse on Friday after the singer fell ill mid-set.
The former Smiths singer performed three songs before walking off stage at the North London venue, half-way through the track 'I Just Want To See The Boy Happy'.
Morrissey is in the middle of a six-night residency at the Roundhouse. Reviews of his first three gigs reported that the singer had been struggling with a cold.
During his brief set the veteran indie star alluded to a mystery illness, joking with the audience that he had tried "steroids" and "anti-biotics" to try and cure his ailment. He struggled to hit high notes in his shortened set and was evidently struggling to perform.
After the singer left the stage there was a 15 minute break before Brand, Jonathan Ross and David Walliams appeared to speak to the audience.
Brand, who has a pet cat called Morrissey, informed the crowd that "Stephen Patrick Morrissey is ill" and that he wouldn't be able to complete the set. The Radio Two DJ and his friends were greeted by boos before and after the announcement.
Jonathan Ross told the audience that David Walliams would provide them with 20-minute set of "I'm a lady jokes," but the trio's cameo appearance was kept brief.
Fans were told to keep hold of their ticket stubs from the concert and informed that another gig at a later date would be likely.
The shortened set list:
'Please, Please, Please Let Me Get What I Want'
'Last Of The Famous International Playboys'
'Something Is Squeezing My Skull'
'I Just Want To See The Boy Happy'