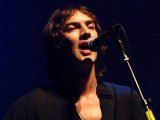 Emily Eavis has explained the reasoning behind Glastonbury Festival's headline choices.
It was
revealed
earlier today that Kings Of Leon, Jay-Z and The Verve would top the Pyramid Stage bill at this year's summer bash.
Eavis, who helps organise the event with father Michael, claimed she was excited by all three acts and was pleased some of the choices had split opinions of festival regulars.
She told
NME
: "We are over the moon about these acts playing, all of which bring something completely different to Glastonbury.
"Kings of Leon have played at Glastonbury several times, from starting in the new bands tent a few years back. They are one of the most exciting live bands around, and this feels like their moment to finally headline the Pyramid.
"We see the Kings of Leon as part of the great heritage of Friday night headliners, Coldplay [2002], The White Stripes [2005]. They're ready to make that leap as well.
Talking about Sunday headliners The Verve, she commented: "I saw them recently at The Roundhouse [in London] and they were amazing.
"It's perfect to round off the weekend. It's the same slot Muse did in 2004 and I think this will be just as epic."
On the surprise choice of Jay-Z, she added: "Jay-Z has split opinions but I think that's what Glastonbury should be about, if you don't like it there are 50 stages to choose from.
"I really believe it's going to be an historical set. We feel honoured that he is coming all the way over to play our show."
Neil Diamond, Duffy, The Courteeners, Jimmy Cliff and Leonard Cohen are also expected to be among the acts playing this year's event.
Tickets for Glastonbury 2008 go on sale at 9am on April 6. Anyone wanting to purchase a ticket must register their details with the festival by March 14.
Glastonbury takes place on June 27-29.