Music News
Marr made professor at Manchester Uni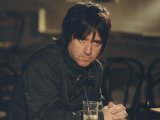 Johnny Marr has been made a visiting music professor by Salford University.
The former Smiths guitarist will give guest lectures to students at the educational establishment over the next five years.
Marr told
The Guardian
: "I know some universities just want to trade on your name to get more students.
"I wanted to make sure I could make a genuine contribution before committing myself."
The rocker
recently joined forces
with The Cribs and performed live with the Wakefield group on the NME Awards Tour.