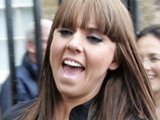 Melanie Chisholm
has dismissed reports that the Spice Girls reunion tour was hampered by band arguments.
The group
cut
their comeback shows short amid rumours of a
rift
emerging in the band.
Speaking to
Rolling Stone
magazine, Mel C said: "All of us have really enjoyed getting closer again.
"The whole atmosphere on the tour [was] very fun and there hasn't been time for any bickering or the fighting that's always reported about the Spice Girls.
"It's just like a big family. There's been more laughing than anything else.
"We've been through something so unique together that even if we don't see each other for a few months, we get together and it's been like no time has passed at all."
The singer admitted that she wouldn't rule out another reunion in the future.
"If you had asked me maybe six months ago if the Spice Girls would ever tour again, I probably would've said no.
"So I think it's quite dangerous to say defiantly yes or no. You never know what the future holds."