4
Music News
Crocker releases 'Leave Britney Alone' single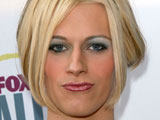 Chris Crocker
has released a dance single based on his "Leave Britney Alone" internet video.
The 20-year-old became an online celebrity when he released a heartfelt video on YouTube pleading for the world to "leave Britney alone".
Crocker has released a dance track titled 'Leave Britney Alone' under the name Double J. The track appeared on iTunes yesterday and it has had more than a million plays on YouTube.
The single features quotes from Crocker's famous web video with the fan yelling "You b******s, leave Britney alone!" as the chorus starts.
The original video, released last year after Spears's performance at the MTV Awards, has been seen by more than 15 million people worldwide.
Time
magazine voted it the number one online video of 2007.
> Click here to share your views on the release