Music News
Guillemots, Siouxsie play O2 Wireless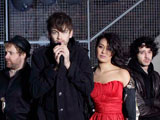 Guillemots
, Siouxie and Dirty Pretty Things will play this year's O2 Wireless Festival.
All three acts will join Morrissey, Beck and The National on Friday, July 4 at London's Hyde Park. Others added to the bill include Lightspeed Champion and New York Dolls.
O2 Wireless takes place on July 3-6. Tickets are on sale now. No acts playing Thursday, July 3 have been announced yet.
Fatboy Slim will headline the
Saturday
night following performances from Robyn, Mark Ronson, Sam Sparro and the Whip.
Counting Crows round off the bash on
Sunday
alongside the Goo Goo Dolls, Powderfinger, The Hold Steady and Bowling For Soup.