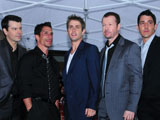 Backstreet Boys
star A.J. McLean has warned New Kids on the Block that they'll need "confidence" to enjoy their pop comeback.
New Kids, who sold more than 50 million records before splitting in 1994,
announced
a reunion tour and album last week.
However, McLean predicted that their comeback efforts will "catch a bit of flack here and there", advising them to have "that confidence among themselves" so they can deal with criticism.
He told
DS
: "They shouldn't let it bother them. They should just push forwards... If they pull it off, it's gonna open up doors again for so many groups like us and them.
"As long as the music's good, it'll be awesome. They've been gone for quite a while now, but who knows? Maybe it's their time."
> Click here for our full interview with A.J. McLean