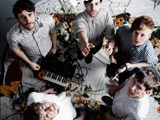 Skins
star
Joe Dempsie
has blasted indie rockers Foals for dismissing the significance of their appearance on the TV show.
Dempsie argued that Foals were given a leg-up by performing on the Channel 4 drama series and said the Oxford rockers' attitude had got the cast's "backs up".
He told
NME
: "They may deny it, but Foals did very well out of appearing in the episode we did on MySpace last summer.
"I think they're great, but they seemed to rubbish their involvement in
Skins
, which got our backs up a little bit.
"They seemed to be stressing over the fact they'd never watched the show. But whatever. They're a good band and they seem to be doing really well."
Foals released there debut album
Antidotes
on March 24. Lead singer Yannis Philippakis recently
said
the group would try to avoid the limelight whenever possible.