6
Music Review
Ne-Yo: 'Miss Independent'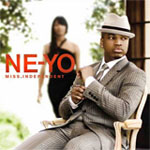 Released on Monday, Sep 22 2008
Working with some of pop's most successful ladies - he's shared studio time with Rihanna, Whitney Houston and Anastacia in recent months - has clearly had an effect on
Ne-Yo
. On this latest single he extols the virtues of a woman who "acts like a boss", "talks like a boss" and makes sure the "bills are paid on time". That might not sound terribly romantic, but it's a welcome change from the "shawty get low"-style lyrics of his R&B rivals.
The track itself isn't as exciting as his last single, the disco-flavoured
'Closer'
, but it's hard not to be impressed by Ne-Yo's craftsmanship here. As midtempo R&B tunes come this is a bit of a peach - the beats are sharp, the production positively gleams and Ne-Yo's vocal is purringly sexy. But it's the impressive melody that shows why those Miss Independents are so keen to book him for their next album.

> Click here to read our recent interview with Ne-Yo