3
Music Review
Jennifer Hudson: 'Jennifer Hudson'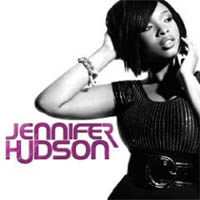 Released on Monday, Sep 29 2008
In August this year a Brighton woman was fined £135 after she broke a noise abatement order forbidding her to sing karaoke in the comfort of her own home. Her loud, "whining" performances of hairbrush favourites such as 'I Will Always Love You' and 'Nothing's Gonna Stop Us Now' had apparently been disturbing her neighbours for five years. Well, thank heavens she didn't try to match
Jennifer Hudson
's ear-splitting rendition of 'And I'm Telling You I'm Not Going', the
Dreamgirls
torch song that made her a star, or the fine would have been doubled. At least.
'And I'm Telling You' appears towards the end of Hudson's debut album, a record that diva lovers have been looking forward to, well, ever since she sang it. But removed from the context of the film, Hudson's histrionic vocal sounds slightly ridiculous, offering a listening experience that's not unlike being run over by a truck. Its presence also exposes the fact that Hudson rarely seems
quite
as engaged elsewhere on the album, even though she belts out plenty of money notes, especially during its second half.
Then again, given the lacklustre material she's often saddled with here, who can blame her? Hudson apparently recorded more than 40 tracks for this album, and it's tempting to surmise that the 15 that made the final tracklisting were picked at random. The likes of 'You Pulled Me Through', a blousy Diane Warren power ballad, and 'Giving Myself', a boring, sappy love song, don't seem to belong on the same album as 'Pocketbook', a sassy Timbaland production on which Hudson tells a horny male he "ain't the only brother trying to get up under my skirt now".
Jennifer Hudson
also features a traditional gospel number, a handbags-at-dawn duet with Fantasia, a few trendyish R&B tracks and 'All Dressed In Love', a Motown-flavoured offering from the
Sex And The City
soundtrack. The uneasy marriage of the modern and the old-fashioned is most pronounced on 'What's Wrong (Go Away)', which sounds like an eighties Whitney ballad with an oh-so 2008 gimmick: Auto-Tuned vocals from T-Pain.
This is all a bit of a shame, because Hudson is a likable, compelling singer when she's given the right song. She navigates the emotional complexities of
'Spotlight'
, on which she plays a downtrodden girlfriend, and 'Can't Stop The Rain', where she offers support to a grieving friend, like a pro. Not coincidentally, both were penned by Ne-Yo, whose
recent album
shows him to be one of the sharpest writers around. Singing his songs, Hudson doesn't need to shriek to sound like she means it.