3
Music Review
Kasabian: 'Fire'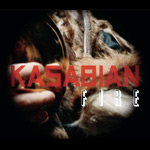 Released on Monday, Jun 1 2009
It's very easy to understand why
Kasabian
annoy so many people. The rowdy Leicester collective, who are never short of a few words to say about everything from their own greatness to
MP's expenses
, are viewed by many as the last remaining flag-bearers for post-Oasis pub anthems. For hard-nosed critics, they're little more than a knock-off Primal Scream working a Gallagher swagger.
If the curious album title wasn't enough - surely
West Ryder Pauper Lunatic Asylum
must win some sort of award? - then this new single is further indication that such stereotypes are unfair. 'Fire' is a wind-swept gem of a track that bursts from chugging Velvet Underground beats into a funky and almost dancey chorus. Meanwhile, Tom Meighan's muffled lead vocals, which sound like they were recorded in the corner of a backstreet boozer, and Gorillaz producer Dan The Automator's obvious studio touches hint at the much-anticipated
"road movie"
feel the band have promised for that new LP.

> Click here to watch the 'Fire' video