4
Music Review
Solange: 'T.O.N.Y.'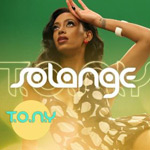 Released on Monday, Jun 1 2009
Solange
recently took to Twitter to
deny
rumours that she'd been dropped from her record label because of the supposedly poor sales of her second album
Sol-Angel and the Hadley St. Dreams
. Given her bright spark in a world of otherwise identikit R&B singers, you've got to hope she's been telling us the truth.
New single 'T.O.N.Y' is as right for 2009 as it would be alongside Bobby Womack and Minnie Riperton on the
Jackie Brown
soundtrack. When Solange sings about the heartbreak of love, life and lost opportunities, you really do
feel
it, rather than just hear the words. Maybe it's the intensity of her personal life - married with a child by the age of 18, divorced three years later - but whatever it is, 'T.O.N.Y.' captures the essence and heart of Motown, rather than just its trappings.

> Click here to read our review of Sol-Angel and the Hadley St. Dreams