8
Music Review
Alphabeat: 'Hole In My Heart'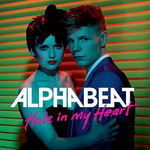 Released on Monday, Feb 22 2010
Why aren't
Alphabeat
massive? When non-entity reality stars can churn out huge chart hits, why did the Danish six-piece only manage to scrape the top 20 with comeback single
'The Spell'
at the end of last year? Having produced a
debut album
packed with day-glo pop nuggets in 2008, it's worrying and peculiar that they can't inspire the same loyalty in music fans as Simon Cowell's latest protégés. Perhaps a second slice of '90s dance nostalgia could change the band's fortunes...
'Hole In My Heart' takes off where 'The Spell' ended with a healthy serving of euphoric piano riffage and synth wooshes. Here the dual vocals of Anders SG and Stine Bramsen twist around the sort of hypnotic beat that will send you back to the big-fish-little-fish warehouse raves of 1991. Although it doesn't pack
quite
the same instant sugar rush as their debut album's bubblegum pop, 'Hole' is actually a more nourishing, enduring treat. It deserves far better than a nonchalant shrug from music fans - it should be gobbled up.