15
Music Review
Flo Rida ft. David Guetta: 'Club Can't Handle Me'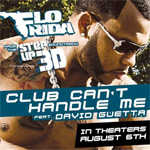 Released on Monday, Aug 2 2010
At the moment David Guetta really is
les couilles du chien
(look it up). He's helped turn the Black Eyed Peas into the world's biggest party band, aided Kelis's transformation from R&B kookstress to club diva and given K. Ro something to talk about next time she's over for dinner at Jay and B's. Now, in his biggest coup yet, he's only gone and made
Flo Rida
seem - in the latter's own words - like the "life of the club, arrogant like yeah!"
For, quite simply, 'Club Can't Handle Me' is a whopping great party banger - perhaps Guetta's straight up funnest production since 'I Gotta Feeling'. Of course, Flo's lyrics are a parade of inane nonsense, as is the very conceit behind the song. Club can't handle
you
? Come off it, mate - you're a big old show-off with a bulging wallet, a taste for shots and rum cocktails and no concept of restraint. We think you'll find most clubs can handle you very nicely indeed.

> Click here to watch the 'Club Can't Handle Me' video