1
Music Review
Travie McCoy: 'Lazarus'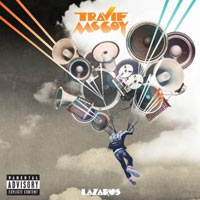 Released on Monday, Aug 9 2010
"Open up my chest and you'll see a cold cavity where my heart used to be,"
Travie McCoy
mourns on a standout track from his debut solo album. Yes, his reaction to that 'awkward conversation' with Katy Perry may be a tad dramatic, but at least he's man enough to be honest about it. But though we sympathise with his situation (c'mon, we've all been there), an album full of whiny break-up numbers rarely makes for a pleasurable listening experience. Thankfully, the man formerly known as Travis has learned a trick or two from his ten years in Gym Class Heroes - not least the ability to crack out a decent pop tune, of which there are plenty here.
Then again, it's not as if
Lazarus
's trailer single had presented McCoy as a bloke left broken and bitter post break-up. "I wanna be a billionaire so f**king bad," croons B.o.B.'s mate Bruno Mars on 'Billionaire', a song that passes several musical tests from its first line alone. Far from being the boisterous ode to materialism that we've come to expect from today's rap-pack, it instead finds McCoy revealing a hitherto unseen altruistic streak: "I'll be in a whole new tax bracket / We in recession but let me take a crack at it." Elton, eat your heart out!
Opener 'Dr Feel Good' also dispels suggestions that McCoy may have spent the past year moping around in his PJs. Over an uplifting, jazz-tinged production from the Smeezingtons, Dr. Cee-Lo Green of The Gnarls Barkley Medical Practice offers his patient some "feel good" to "take the pain away". The side effect of this unusual-sounding medication? The ability to hop from genre to genre like a vacillating karaoke fanatic... on crack.
In fact, from rock to reggae, hip-hop to indie-pop, McCoy's keen to exhibit as many of his musical influences as possible on
Lazarus
. The raging 'Superbad' is reminiscent of Nickelback's 'Someday', 'I Need You' sounds like any number of British guitar bands circa 2006, 'Akidagain' harks back to Jay-Z's 'Hard Knock Life' and, well, the less that's said about the Supergrass-sampling 'We'll Be Alright', the better. While McCoy generally pulls off his musical dalliances in catchy and likable fashion, the concoction of sounds here ultimately blends together about as well as custard and fishfingers.
The sense of stylistic restlessness also means that McCoy's personality can get lost amidst the hooks, high-gloss production and high-profile hook-ups. It's not until album closer 'Don't Pretend' that we get a real insight into the mind of the man, as he bashes a certain "selfish person" who left him in tears. "You probably think I'm still bitter / Well you guessed right," he proceeds to admit. Well, at least we got there in the end, eh?