34
Music Review
Katy Perry: 'Teenage Dream'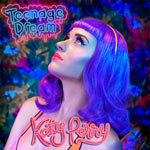 Released on Monday, Aug 30 2010
During yesterday's
Come Dine With Me
- stay with us! - Pasha du Valentine from Brighton dished up a dessert she dubbed "Lover's Pudding", namely a pair of wobbly pink blancmanges each topped with a plump and juicy cherry. Maybe your
DS
reviewer had been spinning the new album too much beforehand, while getting high on its cotton candy-scented booklet of course, but it seemed like the kinda thing
Katy Perry
might do.
Then again, the album's title track and second single is a welcome reminder that there's more to the future Mrs Brand than
Benny Hill
humour, that godawful blue wig and an admittedly bitchen'
X Factor
cameo. Filled with lyrics about getting drunk on the beach, going all the way tonight and the like, this ode to young love comes off like a lost classic from an '80s teen movie soundtrack - given a 2010 production sheen courtesy of Messrs Blanco, Luke & Martin of course. Best of all, just like 'California Gurls', it's got something that's big, tasty and impossible not to gobble up as it whallops you right round the chops - the chorus. Ooh and indeed er!

> Click here to watch the 'Teenage Dream' video