5
Music Review
Mark Ronson & The Business Intl: 'Record Collection'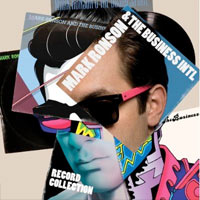 Released on Monday, Sep 27 2010
"He wants to write his own tunes instead of ruining everyone else's," Oasis guitarist/songwriter/wit Noel Gallagher once quipped about
Mark Ronson
. It wasn't the best of Noel's one-liners, and given his own pilfering of the rock cannon it wasn't the fairest either. Despite that, the brassy ubiquity of Ronson's 2007's covers album
Version
meant that you could definitely understand where he was coming from. Ronson himself has
admitted that
the "running punchline of Mark Ronson and his Merry Band of Trumpeteers" spurred him to leave the brass to one side on this, his third LP. So, out with the horn-y Indie Songbook, and a return, of sorts, to the hip-hop-driven spirit of his less-listened-to debut
Here Comes The Fuzz
. From the opening blast of lead single
'Bang Bang Bang'
, it's clear that the shift is definitely a welcome one.
Record Collection
is an album that frequently gets you tapping your toes, rather than ripping out your hair and tracking down your Charlatans and Smiths LPs in a fit of Gallagher-esque Luddism.
What remains key with Ronson is his choice of special guests. Out-the-window goes the rockist rolodex, and in comes a supporting cast of surprising variety. There's old friends Ghostface Killah and Q-Tip, Miike Snow's Adam Wyatt, '80s superstars Simon LeBon and Boy George, the London Gay Men's Chorus, ex-Pipette Rose Elinor Dougall and many, many more. Sometimes the results are close to inspired: Wyatt/George on the effortlessly wonderful rhythmic soul-pop of 'Somebody To Love Me', Q-Tip/MNDR on the aforementioned 'Bang Bang Bang', Wyatt/Dougall on the Propaganda/Client-esque 'You Gave Me Nothing', D'Angelo's wailing croon on 'Glass Mountain Trust'. These songs alone are really worth the entry price.
Elsewhere though, Ronson fails to come up with strong enough melodies and instrumentals to
really
draw the songs out from their slick assembly. Over the album's 14 tracks, you get quite a bit of breadth, but all too often it feels only skin-deep. It's absolutely clear that Ronson loves music, and that love - of hip-hop, dance and pop - is genuine and heartfelt. It's just that
Record Collection
can at times can feel like a friendly, fan-ish tickle ("I only want to be in your record collection / And I'll do anything it takes just to get there"), leaving you craving a much more visceral scratch that leaves you bleeding - or at the very least a little raw. The collaborative approach has its merits, but it also feels like the Business Intl setup makes it hard for a singular voice to emerge from the album.
The two most interesting moments come when Ronson himself tentatively steps up to the mike. 'Record Collection' finds him channelling Damon Albarn for an '80s nostalgia-fest ("My teeth are white and my hair is clean / I wear Paco Rabanne like I was Charlie Sheen"). It's nice, but doesn't quite match Gruff Rhys/Boom Bip's Neon Neon project from a couple of years back, which covered the same sort of ground. 'Lose It (In The End)' is supposedly Ronson doing an impression of The Drums' Jonathan Pierce, but, like the title track, it benefits from having the back-room boy putting a personal stamp on it. Together with the Wyatt/George/Dougall numbers, they mean that Ronson has done more than enough here to emerge from the potentially long shadow cast by
Version
.