33
Music Review
The Wanted: 'Heart Vacancy'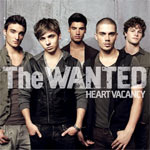 Released on Monday, Oct 18 2010
When you're a boyband in 2010 whose name isn't JLS, your lifespan's likely to mimic that of an organic banana: sweet while it lasts, but ultimately pretty short. That said,
The Wanted
's surprise No.1 with 'All Time Low' has been one of this year's greatest chart success stories - because it not only put boybands
officially
back in vogue, but seemed to bring a new breed of edgier, trendier and, well, cuter ones with it. (See this year's
X Factor
.)
On first listen, the group's second single does little to support this theory, but on closer inspection it's clear that this lot have never been allowed within a 50m radius of Pete Waterman. Yes, it's a slushy, string-laden slowie about longing for a girl, but with the BPM turned up a notch and a stomping rhythm - too fast for waving lighters but slow enough for hands-in-the-air time - 'Heart Vacancy' treads on the
slightly
more manly side of sentimental. At this rate, they could be hanging around for longer than that 'Breakfast In A Can' in your kitchen cupboard.

> Click here to read our interview with Jay from The Wanted