17
Music Review
Adele: 'Rolling In The Deep'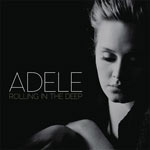 Released on Monday, Jan 17 2011
Yes it's sad, sad enough to make part of you want to curl up in the corner with nothing but your duvet for company and sob quietly into your coffee cup. But it's also rousing, rousing enough to make the other part of you want to track down the s**ttiest ex you ever had and litter his Facebook wall with not-so-sweet nothings. That's right, 'Rolling In The Deep', the lead single from
Adele
's upcoming second album, is a very special kind of break-up song.
"You had my heart inside of your hand / And you played it to the beat," Adele sings here, flanked by goading backing vocalists ("You're gonna wish you never had met me"), clomping beats and piano that pounds spookily like a poltergeist trying to bang down your bedroom door. And
that
voice? Better than ever, relating the mixture of righteous indignation and utter despair in her lyrics with enough emotion to power, ooh, at least a couple of chapters of a Nicholas Sparks novel. If we were the wrongun who inspired this pop-soul colossus, we'd be feeling a mixture of fear, shame and regret. A helluva lot of regret.

> Click here to watch the 'Rolling In The Deep' video