6
Music Review
Wretch 32 ft. L: 'Traktor'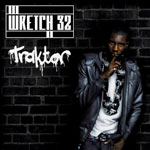 Released on Sunday, Jan 16 2011
And it's full steam ahead for the good ship grime-pop crossover! The latest underground hustla-turned-top 40 conqueror is Tottenham-born MC Jermaine Sinclair, whose idiosyncratic choice of stage name -
Wretch 32
? Huh? Anyone? - makes the likes of Tinie, Tinchy and Chipmunk look a little bit unimaginative.
Though he sounds like a mere number from the Dickensian workhouse, there's nothing anonymous about this debut single. The
Pulp Fiction
sample might be slightly obvious, but
that
rumbling riff provides a suitably menacing soundbed for this spunky, spiky street-pop nugget. It's anchored by what we'd call a Lord Sugar of a chorus hook - in that it really does the business - but 'Traktor's greatest ear-snaggers are its lyrics. In fact, within the course of three minutes and 37 seconds, Wretch namechecks
The Jeremy Kyle Show
and
Charlie's Angels
, chucks in a few "choo choo"s and some oh-so-English "terribly"s, and comes up with a catchy, snappy statement of intent: "I ride the mothaf**kin beat like a tractor." If he'd also managed to mention the Royal Wedding / Kerry Katona / Rising VAT, we'd have given him a five.

> Click here to watch the 'Traktor' video