4
Music Review
Nelly ft. Akon, T-Pain: 'Move That Body'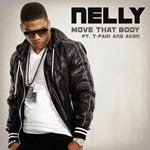 Released on Sunday, Jan 30 2011
We're just going to admit it… We didn't expect to enjoy
Nelly
's last single, the top ten hit 'Just A Dream', half as much as we did. It's not that we're averse to the tanked rapper, but after 2008's lacklustre
Brass Knuckles
LP we were ready to put him out to pasture along with the rest of the early-noughties rhyme-spewing crew. Judging on this follow-up, we might well have followed our instincts.
Over minimal 'n' bassy electro-hip-hop beats, Nelly and pals Akon and T-Pain command their laydees to work the dancefloor, the result being far closer to something from
Knuckles
than the Nelly whose appeal we rediscovered on 'Just A Dream'. "Hands in the air / Put your booty where the floor at," they chant mercilessly. Believe us gents, it's a seemingly impossible task without making a complete tit of yourself.
Believe us
.