1
Music Review
Jodie Connor ft. Tinchy Stryder: 'Bring It'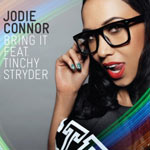 Released on Sunday, Apr 3 2011
Few former talent show contestants prove the phone-voting public wrong post-elimination (Rosie Ribbons and Eoghan Quigg anyone?), so you can imagine our surprise after we discovered one had managed to sneak into the charts some years later. Cue ex-
Pop Idol
contestant
Jodie Connor
- the ghetto-fab Mancunian who, after featuring on Tinchy Stryder's 'In My System' last year, is faithfully repaying the favour on her latest effort.
"Don't let them bring you down," she declares over a beefy club beat and squiggly synths which wouldn't sound out of place blaring from a boy racer's pimped out Toyota Corolla - complete with tinted windows and furry steering wheel cover, of course. As such, the result lacks the va-va-voom of a
real
motor - say, a Ferrari Enzo - but much like our safe and reliable VW Golf, it still manages to get the job done.

> Click here to watch the 'Bring It' video