8
Music Review
Natalia Kills: 'Mirrors'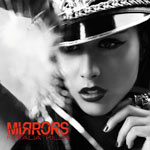 Released on Sunday, Apr 24 2011
The question most rising female popstars are asking themselves these days is how, when Lady GaGa seems to have all bases covered, can they possibly compete? Truth be told it's a frustrating state of affairs, but one girl clearly unfazed by it all is Bradford-born newcomer
Natalia Kills
. Her solution? Reinvent one of her idol's former looks and dress it up as "gothic pop".
She's even got GaGa's
The Fame
mentors Akon and Cherry Boom Boom to helm her debut effort - a pitch-black disco-pop number with a grinding synthesised beat recalling the Eurythmics 'Sweet Dreams' that treads the line between urban and euro-friendly without sounding gimmicky. "Turning the lights on/ Burnin' the candles/ And the mirrors gonna fog tonight," she insists after boasting about her countless S&M antics. Hang on, maybe it's Rihanna's crown that she's
really
after.

> Click here to watch the 'Mirrors' music video