0
Music Review
Travis Barker ft. Swizz Beatz, Lil Wanye, The Game & Rick Ross: 'Can A Drummer Get Some?'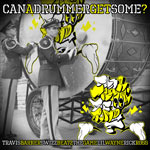 Released on Sunday, Apr 17 2011
Ringo Starr will be the first to admit that a drummer releasing solo material is no easy task, let alone dabbling in a bit of genre hopping - but it seems Blink 182's
Travis Barker
has thrown down the gauntlet and taken up the challenge for his debut solo effort. His solution? Keep both drum sticks firmly in hand and call upon his new hip-hop pals to spit out the verses.
As you'd expect, Barker puts his moment in the spotlight to good use, pounding out a percussion set as effortlessly sonic as the blue hedgehog himself. Unfortunately, it seems lost on his array of guest rappers, who find themselves caught up in uninspired rhymes while namedropping the likes of Michael Jackson, Nicholas Cage and Sylvester Stallone. Perhaps it's time he kissed and made up with his
'foolish'
former bandmates?

> Click here to watch the music video for 'Can A Drummer Get Some?