0
Music Review
The Sound of Arrows: 'Nova'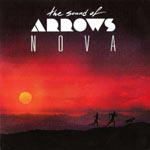 Released on Monday, Apr 25 2011
It's no secret that pop is a fickle business, and as such, artists usually dedicate hefty amounts of time towards holding our attention: Rihanna's multi-coloured barnet, Katy Perry's spray cream cleavage and GaGa's, well, anything and everything. The opposite could be said of Swedish pop duo
The Sound of Arrows
, who, after teasing us back in '09 with 'Into the Clouds', are
finally
ready with their first single proper - but has their hard-to-get strategy paid off?
An infectious, dreamy and euphoric electro number, 'Nova' thankfully picks up neatly where they left off two years ago. "It is about time to face it/ Surrender and then start again," they croon over a swirling melody and plinky synths, while the sweeping chorus driven by a pounding beat reminiscent of the Pet Shop Boys circa 'Se a vida é' soars skyward in intergalactic fashion. Like a Caramel Frappacino, it's both ice cool and sickly sweet - and manages to hit the spot every time.

> Click here to watch the 'Nova' music video.