4
Music Review
Rihanna: 'California King Bed'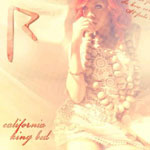 Released on Sunday, Jun 12 2011
Here at
Digital Spy
, we spend a lot of time picking apart the curious decisions made during an act's album campaign. 'Why aren't they promoting more?', 'Where is the music video?' and 'Why are they releasing
that
?' are the most common areas called into question - though fortunately in
Rihanna
's case, the whole thing has played out neater than her perfectly tousled flame-coloured locks.
The fourth single proper from
Loud
may pull in the reins as far as the hectic dance beats and sado-masochistic lyrics go, but it's no less beefy and extravagant. Lilting acoustic guitars metamorphose into '80s rawk ones as she sings about the kind of separate-togetherness felt moments before a break-up. "In this California king bed/ We're ten thousand miles apart," she belts out in a range well beyond her natural vocal ability. We know it's not superstar protocol, but perhaps a queen-size divan instead will solve the problem?

> Watch the 'California King Bed' music video here