3
Music Review
Alex Gaudino ft. Kelly Rowland: 'What A Feeling'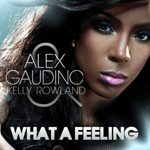 Released on Sunday, May 29 2011
Timing hasn't been Kelly Rowland's forte of late, throwing out countless dance-pop singles across Europe and US-only R&B cuts without an album in sight. That said, given the
X Factor
latest, her current hook-up with Italian 'Destination Calabria' DJ
Alex Gaudino
- for us dance-loving folk only, of course - may well be the most perfectly-timed chart assault of 2011.
"I wasn't even searching for love/ That's usually when it creeps up on you," K-Ro insists with an emotionally-charged vocal, while Guadino provides pulsating synths and a vibrant piano hook that makes for her most radio friendly and uplifting release since 'When Love Takes Over'. "What a feeling/ Feels like I'm on top of the world," she rejoices. The result is yet
another
summery club cut built for club 18-30 dancefloors, but given the circumstances, we'll let this one slide.

Watch the 'What A Feeling' music video below: