17
Music Review
Sophie Ellis-Bextor: 'Make A Scene'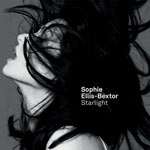 Released on Monday, Jun 13 2011
Has it really been 11 years since
Sophie Ellis-Bextor
first caught our attention as the nonchalant guest vocalist on noughties club favourite 'Groovejet'? While we wonder just what the heck we've been doing with ourselves, the real surprise is that, in an industry which has moved at warp speed over the past decade, she's only just releasing her fourth studio album four years after the much-acclaimed
Trip The Light Fantastic
. Her latest effort was delayed by a year after trailer single
'Bittersweet'
stalled in the charts - resulting in her departure from her label and the creation of her own. Question is, does Sophie's first indie release live up to the title's bold promise?
A glance at the production credits suggests that she is a woman of her word. Greg Kurstin's (Kylie, Lily Allen) hectic electro opener 'Revolution' would easily turn heads, while the Calvin Harris-helmed 'Off & On' screams to be danced to, albeit in a laid-back and ladylike manner. Combined with ballsy singles 'Bittersweet' and
'Heartbreak'
, produced by the Freemasons, and Europe-only release
'Not Giving Up on Love'
- a club-thumping collaboration with superstar DJ Armin van Buuren - and a spectacle is undoubtedly created, even if it's without Sophie at the helm. That said, the album's calmer back-end is where she shines best, with wistful pop-ballads
'Starlight'
and 'Synchronised' proving that she is more than capable of handling the centre stage if she so chooses. It might be a scene of two halves, but there's no shortage of elegance, class and pop sensibilities throughout.

Tracks to download:
'Revolution', 'Bittersweet', 'Off & On', 'Starlight', 'Synchronised'
If you like this, you might like:
Roisin Murphy, The Freemasons, Clare Maguire
Listen to 'Starlight' by Sophie Ellis-Bextor below: